10/30/2019

MHA Going RAD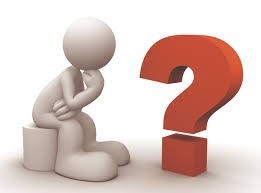 WHAT IS RAD?
The Rental Assistance Demonstration (RAD) is a program of the Department of Housing and Urban Development (HUD) that seeks to preserve affordable housing. RAD is a HUD program created to assist Public Housing Authorities (PHAs) to maintain and preserve their public housing units. RAD provides PHAs a way to make needed improvements to their properties without depending on additional money from Congress.
PHA's across the country need more than $26 billion in repairs and many PHAs do not have enough money to keep units in good condition. RAD provides PHAs a way to stabilize, rehabilitate, and or replace properties by borrowing money to make needed repairs to enhance the communities for residents and longevity of affordable housing.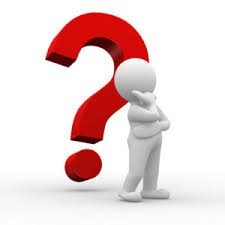 HOW DOES RAD WORK?
RAD allows PHAs to convert a public housing property's HUD funding to either: • Section 8 project-based voucher (PBV); or • Section 8 project-based rental assistance (PBRA). Units move to a Section 8 project‐based voucher platform with a long-term contract, by law that must be renewed ensuring that the units remain permanently affordable to low-income households. The conversion of funding allows PHAs the ability to borrow money easily for rehabilitation work.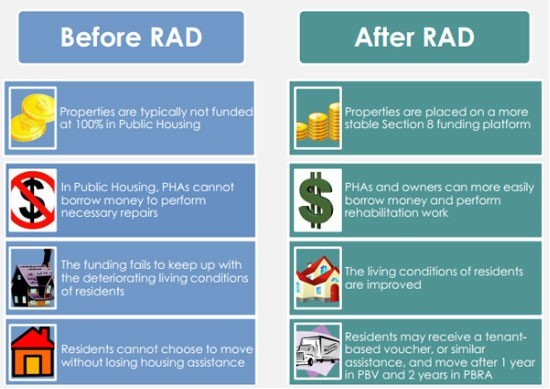 Before RAD
Properties are typically not funded at 100% in Public Housing
In Public Housing, PHAs cannot borrow money to perform necessary repairs
The funding fails to keep up with the deteriorating living conditions of residents
Residents cannot choose to move without losing housing assistance
After Rad
Properties are placed on a more stable Section 8 funding platform
PHAs and owners can more easily borrow money and perform rehabilitation work
the living conditions of residents are improved
Residents may receive a tenant-based voucher, or similar assistance and move after 1 year in PBV and 2 years in PBRA
To find out more about Monroe Housing Authority's RAD Conversion, please check our website for on-going updates, and attend your community Resident Council Meetings.