05/18/2022
Monique Holt Joins Monroe Housing Board of Commissioners
FOR IMMEDIATE RELEASE
For more information, contact:
Anna McRae, CEO
504 Hough Street, Monroe, NC, 28112
704.289.2514 l Email Anna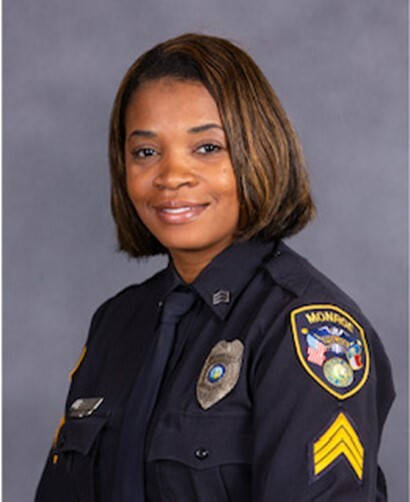 Monique Holt Joins Monroe Housing Board of Commissioners
MONROE, NC --- Monique Holt is appointed to the Monroe Housing Board of Commissioners. Holt's tenure began 12/2020, and she will serve for a four (4) year term.
Holt currently serves as a Lieutenant for Monroe Police Department. Holt brings to the board knowledge and experience related to housing concerns through her involvement with the community, as wells as law enforcement and nonprofit organization partnerships. She is very aware of the needs of the residents and is willing to help grow the community.
Originally from Stanly County, NC, Holt relocated to the Monroe area in 2003. Holt holds a Bachelor's Degree in Criminal Justice from Pfeiffer University and is currently working on her Master's in Leadership at Pfeiffer University. Additionally, Holt holds a Criminal Justice Instructor Certification from North Carolina Criminal Justice and Training Standards Commission and several other Leadership and Management certifications.
Holt is a member of Union County Chamber Ambassadors, Union County Chamber Women in Business, and Union County Juvenile Justice.
Holt has three children and one granddaughter. During her free time, Holt enjoys sporting events, hiking, and family time.
"Monique Holt is a valuable addition to the Monroe Housing Board of Commissioners. She brings knowledge in law enforcement and community engagement, which is an asset to the Board. We are excited to welcome Monique to the Monroe Housing Board of Commissioners." stated Anna McRae, CEO of Monroe Housing.
Monroe Housing, established in 1966, provides decent, affordable housing for eligible low-income families and the elderly through 173 Public Housing units, 33 RAD Project Based Voucher units, and manages 357 Section 8 and Mainstream Vouchers for area landlords. Monroe Housing is governed by a seven Board of Commissioners.
As a leader and innovator, Monroe Housing Authority's mission is to provide safe, quality housing for persons in need and cultivate healthy, vibrant neighborhoods for the citizens we serve. Monroe Housing will empower residents to achieve self-sufficiency through innovative partnerships that encourage personal and professional growth.
For more information on Monroe Housing, please visit their website, www.monroehousing-nc.com